Clamp-On Amp Meter
It is always comforting to be able to monitor that the alternator is actually charging as expected when the engine is running. However, intercepting the charge current by physically introducing a resistive amp meter into the circuit doesn't exactly help charging efficiency.
What we want here is a "clamp-on" meter, which measures the the DC current without touching, as it were. Ideally, and in order to be really practical in use, it should also have a remote display (and as such would technically be called a "transducer" rather than a "meter").
There are, of course, plenty of clamp-on digital multimeters (DMM's for short) to chose from. Most of them are quite expensive (at least compared to regular multimeters), and they are almost universally equipped with just an integrated instrument display, while the few low-end clamp transducers tend to be AC only.
I was glad, therefore, to find a reasonably priced display-less clamp-on DC/AC transducer. (Sent to Sweden from Taiwan by air the cost was USD 82.00 in 2005, from tecpel.com). The range is up to 600 A, and it can be connected to virtually any remote multimeter.
I mounted the transducer with the sensor clamp "permanently" grasping the 50 mm² conductor cable coming directly from the alternator, and connected the output to a simple DMM hidden in the breaker-box cum instrument panel by the nav station, so that only the meter's LCD display is visible on its "dashboard" panel. A simple (ON)-OFF push-to-watch switch conserves the meter's battery.
It all works very well, and we're now able to check the normal declining current as the batteries are being routinely topped-up.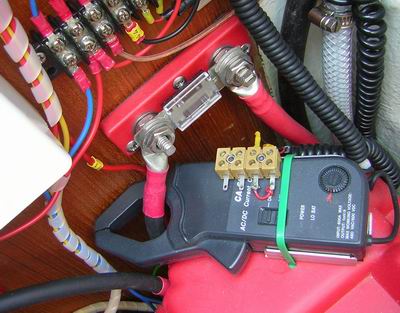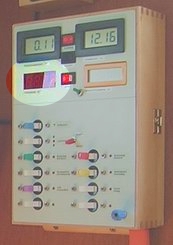 Tånginstrument för strömmätning

Det är förstås en fördel om det finns möjlighet att kontrollera att batterierna får tillräcklig laddström när motorn är igång. Tyvärr medför en konventionell mätar-shunt placerad direkt i laddkretsen i princip alltid ett ökat laddmotstånd och är därför en opraktisk lösning.

Med hjälp av ett tånginstrument kan däremot även stora laddströmmar mätas utan ingrepp och strypningar. Om dessutom instrumentets givardel kan avläsas externt blir detta ännu mer användbart för vårt syfte. Det finns ett otal modeller av tånginstrument att köpa, men dessa är överlag ganska dyra (åtminstone i jämförelse med enkla multimetrar) och dessutom oftast utformade för direkt avläsning på själva instrumentet. De enklare s k tångtillsatser (alltså utan integrerad display), som också finns, klarar å andra sidan normalt bara växelströmsmätning. Efter visst letande fann jag en överkomlig likströms-kapabel tångtillsats på nätet. Tillverkaren Tecpel i Taiwan skickade gärna ett exemplar av modellen CA600 för 82 dollar. Tångdelen monterades så att den omsluter plus-ledaren (50 mm²), vilken obruten går mellan generatorn och startbatteriet. Signal-ledarna från givaren anslöts därefter till en enkel Clas Olson-multimeter placerad med övriga mätardisplayer i säkringspanelen. En fjädrande vippa hålls nedtryckt för att aktivera både display och givare så länge man övervakar laddningen.

---
[ BACK ]