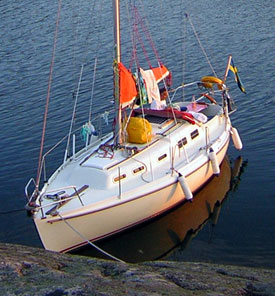 Cypris V is an Allegro 27, a long-keeled double-ender cruiser (K25/S335, callsign "SC5136"), which used to be based in Viggbyholm (59°26.1 N, 18°06.6 E) and Sandhamn (59°17.0 N, 18°55.5 E), near Stockholm, Sweden. Overall length is 8.0m and approximate displacement 3 metric tons. This late example was built in 1980, although the Allegro design stems from the mid-sixties.

For the benefit of anyone who may be contemplating similar practical projects we have endeavoured to make short notes on some of the DIY efforts and limited-budget upgrades we have made lately. Links to projects are listed below. Please note that the new owners maintain a more updated homepage here: http://cypris.xinxidi.net.

Never heard of a yacht named "Cypris"? Well, here are a few others! (Swedish text).

Cypris V är en Allegro 27, en kosterbåt i klassen K25. Allegron ritades av Lars Olof Norlin redan 1966, men det här exemplaret byggdes så sent som 1980 med segelnumret S335. Längd över däck är ungefär 8m och deplacementet drygt 3 ton. Hemmahamnnar var tidigare Viggbyholm och Sandhamn, men sedan båten blev såld 2015 och fick namnet Cypris Volante hör den nu hemma i Göteborgstrakten.

På den här sidan finns samlat länkar till presentationer av några av de förbättringsprojekt och "åtgärder", som genomförts sedan vi köpte båten 2002. Frågor kan mejlas till cypris@xxx! Observera dock att den mest aktuella hemsidan hittar man numera här: http://cypris.xinxidi.net.

Om det funnits fler båtar med namnet Cypris? Kul att du frågade! Läs här.
---