Restoration of a classic heads model

The original owner had the Simpson Lawrence SL400 toilet installed in the eighties. At the time this model was considered a top end piece of kit, but after two decades the plumbing needed to be repaired; the pumping action wasn't satisfactory and there were unpleasant leaks.

Unfortunately, Simpson Lawrence ceased production a long time ago (having first been bought by Lewmar), and I couldn't find any supliers of spares in Sweden. In 2003 Yacht Parts Plymouth (www.yachtparts.co.uk) could still provide a Lewmar stamped limited kit (6039700) comprising of basic valves, gaskets and springs. After that spares became rare! Occasionally one would find parts offered on the internet, but the demand was obviously such that they were sold immediately. I eventually I happened to find a specialist firm (www.leesan.com) which did indeed stock brand new replacements for the SL400! It seems they were the distributors, and in turn suplied by a former SL employee who had now taken over what was left of the factory equipment and stock (www.slspares.co.uk). I ordered a new diaphragm (p/n 8) and rocking lever (p/n 18).

After dismantling the heads I cleaned and "polished" all parts, exchanging the faulty parts for new, while studying the interior mechanisms and taking notes which should be valuable in the future if/when we encounter problems in this department at sea.

The toilet now works almost as if new and will hopefully last for many more seasons.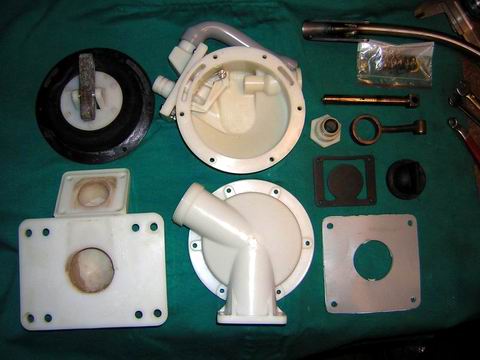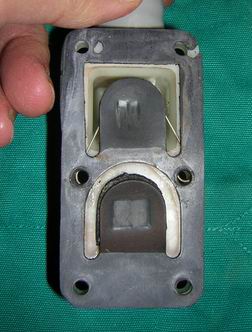 Worn inlet valve (left). Ditto rocking lever and diaphragm bellows (right).
Renovering av en klassisk båttoa
Den ursprungliga ägaren installerade en Simpson Lawrence av modell SL400 på åttitalet. Detta ansågs vara bland de bästa man kunde välja på den tiden, men efter ett par decieniers användning var det nödvändigt med en renovering: pumpfunktionen var otillräcklig och det droppade lite varstans.
Dessvärre hade Simpson Lawrence-fabriken (efter att först ha blivit uppköpta av Lewmar-koncernen) upphört att tillverka sina lovprisade båttoaletter för flera år sedan. Det visade sig inte oväntat vara hopplöst att hitta resevdelar i Sverige. Så sent som 2003 gick det dock att få tag på en packnings-sats från en furnissör i Plymouth, men därefter föreföll reservdelslagret ha tagit definitivt slut.
Några år senare råkade jag på nätet hitta en VVS-firma i England som åter sålde reserv- och förslitningsdelar till SL400-modellen. Det visade sig att de var ensamma distributörer för en tidigare anställd vid Simpson Lawrence, som fått köpa verktyg och inventarier och börjat nytillverka reservdelar som en ren hobby (www.slspares.co.uk)! Vilken tur!
Efter att ha plockat isär, dokumenterat och putsat hela toan gick det snabbt att byta ut alla packningarna, backventilerna inklusive fjädrar, samt den småspruckna pumpbälgen med sin slitna kam. Muggen funkar nu nästan som ny och kommer förhoppningsvis att hålla många säsonger till. Skulle trots det akuta problem uppstå till sjöss känns det tryggt att redan ha haft tillfälle att studera innanmätet och mekaniken i lugn och ro.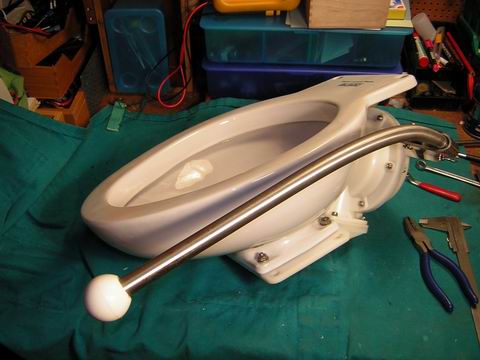 ---
[ BACK ]