Siting a Deck-mounted Solar Panel
Finding a suitable area for mounting a solar panel can be especially difficult on a small boat. Ideally it should be a prominent "sunny" position, clear of any shading obstructions. At the same time it must not cause loose sheets to jam or feet to stumble, etc. Many boat owners go for the radical solution of putting the panel(s) high on a pole or on some other similar structure well aft and above of the deck and cockpit level. The obvious advantage of this latter approach is the fact that a panel's attitude can be made easily adjustable and the system hence maximally efficient. The main drawbacks, in our opinion, are twofold: Esthetics and added windage.
On the Allegro 27 there is a virtually flat (i.e. single curved) horizontal area (560x680 mm) atop the sliding hatch cover on the coachroof. When a local chandler offered some semi-flexible panels at a reduced price a couple of years ago we discovered that the NAPS model NP40RSS panel (545X570 mm) covered this area almost perfectly! All that was needed was to add a couple of teak batten along the sides for better fastening.
This resulted in a very basic but sturdy arrangement that has worked very well despite the panel often being stepped upon and generally receiving rough treatment. Electrical efficiency, which nominally is 2.3A at 17.3V (maximum values), has proven good enough in practise, even though the boom and other superstucture members often do cast partial shadows (as can be seen in the picture).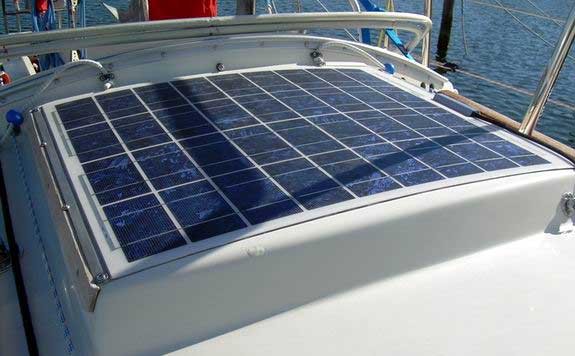 Solpanel på luckgaraget
På en mindre båt kan det vara speciellt svårt att finna en bra plats för solpaneler. Helst skall de ju vara placerade helt skuggfritt, men ändå så att de inte under segling kan komma i vägen för t ex fötter eller lösa tampar. En beprövad lösning är att placera en eller flera paneler på en särskild stolpe, targabåge e dyl långt bak i båten och högt upp.
Den stora fördelen med denna strategi är den goda solexponeringen, särskilt om monteringsvinkeln kan korrigeras underhand. De största nackdelarna som vi ser det är dels estetiska, dels det stora vindfånget.
Vill man försöka placera en "trampbar" panel permanent på däck finns det dock inte så många tänkbara alternativ. På Allegro 27:an finns det i alla fall en närmast plan yta på luckgaraget som kan passa. När det var kampanjpris på paneler och regulatorer av det finska märket NAPS häromåret visade det sig att deras 40-wattsmodell passade denna yta nästan perfekt. Endast ett par tunna teakribbor behövdes för att täcka de något överskjutande plåtkanterna.
Arrangemanget har visat sig både robust och ge tillfredställande laddningseffektivitet, även om dels själva bommen, dels den nya bomgalgen oftast skuggar i någon mån, vilket naturligtvis inte är optimalt.


---
[ BACK ]