The whole point about sailing is that it is, or should be, a genuinly relaxing pastime. Cruising, in particular, is supposed to involve a life-style without the usual time-governed routines and duties.
One of the few necessary such "duties" remaining for the cruising sailor is to remember to tune in to the marine weather forecast broadcasted at regular intervals. However, even this task may at times prove too much: if you, like us, have the unfortunate habit of forgetting to turn the radio on in time this may become a source of genuine frustration!
To make this scenario less likely to happen we have "invented" a dedicated memory-aid. It consists of two digital clocks, each capable of being programmed to sound the alarm beep at two separate times a day, so a total of four different alarm times are possible. Although the shipping forecasts for Sweden are aired by the public service radio five times a day, the available alarm-set thus covers the four critical daytime reports. Most of the time we manage to remember the remaining late night report all by ourselves, anyway.
The clocks used, although quite inexpensive, are actually extremely accurate as they are automatically adjusted by a pacemaking radio-signal continuosly transmitted by a certain atom-clock in Germany (sic). As can be seen in the pictures an old cigar box houses the clocks , and a new simplified "front end" hides the irrelevant parts of their displays, while emphasizing the few pushbuttons that are essential for their operation (i.e. turning the alarm on and off; the alarm times are pre-programmed once a season).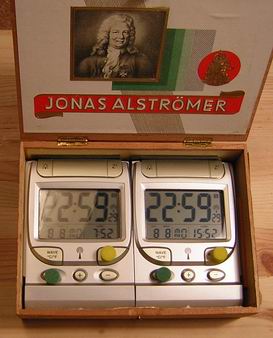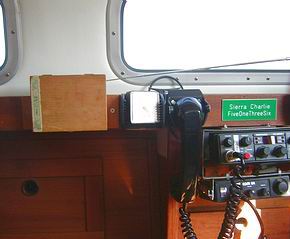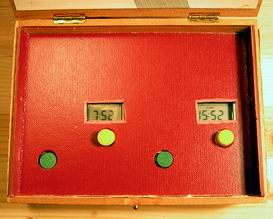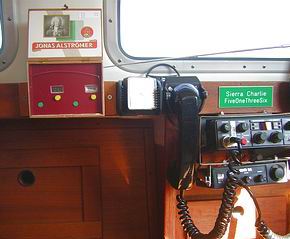 Sjöväderrapport-väckare
Hela idén med båtlivet är ju att man skall kunna koppla av. Inte minst vid långfärdssegling förväntas man leva ett ostressat liv, och att vara mindre styrd av klockan.
En "plikt" som man dock inte kommer undan, allra minst på långsegling, är att lyssna till sjöväderrapportens sändningar vid sina fasta tidpunkter. Att gång efter annan precis missa "sjörapporten" för att man är så avkopplad att man glömt tiden, kan snabbt bli väldigt frustrerande.
Detta är ju alldeles onödigt! Allt vi behöver är en pålitlig påminnelse-hjälp, och det är precis vad som döljer sig i denna gamla cigarr-låda. Apparaten består helt enkelt av två digitala väckar-ur inköpta på Clas Olson. Trots det mycket facila priset är dessa faktiskt "radiostyrda" med en mycket exakt puls som sänds från ett atomur i Tyskland.
Varje ur kan ställas in på två separata väckartider, vilket resulterar i summa fyra alarm per dygn. Sjövädret läses ju normalt upp i P1 fem gånger om dan (05:55, 07:55, 12:54, 15:55, 21:50) men den sista sändningen på kvällen brukar i praktiken inte vara så svår att komma ihåg (tycker vi). För att förenkla användningen har det mesta av displayerna dolts bakom en ny "instrumentbräda", medan de få knappar som är nödvändiga för att kunna sätta på och stänga av larmen har fått tydligare knappar.
---