Fresh Water Tank Gauge
Our fresh water tank holds 70 litres, but unfortunately there is no gauge to show how much is left at a given moment. This is clearly annoying, so we installed a regular in-line type water meter from a supplier of plumbing goods. This heavy-duty gauge actually didn't cost much, considering its level of quality, and should last forever.
As the meter can't be easily reset, the procedure is to note the present indicated total figure (X litres) in the log whenever the tank is topped up, and then monitor the accumulated consumption so that it doesn't exceed X+70. Simple as that.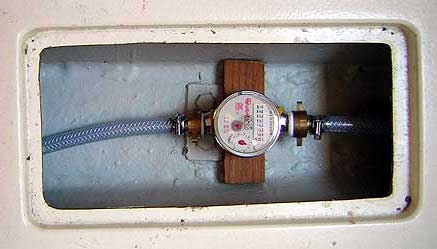 Färskvattenmätare
Vår färskvattentank är på 70 liter men har inge indikator som visar hur mycket som finns kvar. För att ha koll på förbrukningen installerade vi en helt vanlig vattenmätare på frånvattenslangen. Det är en rejäl "hushållsmätare" men den var trots det inte så dyr (250:- från Hydro Standard AB i Solna).
Varje gång vattentanken fylls på noterar man mätarställningen och kollar därefter då och då att denna inte ökat med mer än 70 liter. Lätt som en plätt.
---
[ BACK ]